I heard about the cuttlefish when I was in Port Augusta for some Dinghy Instructor training.  Admittedly I didn't have all the facts when I posted a trip, but it seemed fairly feasible, very popular, and had some additional side trips.  Thanks must go to the Whyalla Tourist Information for information, the Adelaide Uni SCUBA Club (AUSC) for friendly advice and wetsuit hire, and Snorkel Safari for wetsuit hire (during business hours).  We met at North Terrace Thursday 14 May and headed down to the AUSC clubrooms to hire wetsuits. We met again Saturday morning 16 May and drove 4 hours to Point Lowly.  The foreigners seemed to find this strangely therapeutic, driving so long, yet going so little (on the map).  We did some car shuffling to keep things interesting.  We got to Point Lowly and some friendly fishermen gave us more detailed instructions on where to snorkel.  We backtracked to 'The Chain Fence', the Whyalla side of the SANTOS Port Bonython facility. We followed the 2WD track to the sea and were confronted with a nice picnic area with information signs about cuttlefish.  Yep, this must be it!  We suited up and snorkeled about 200m out and there they were!  We were too early for the mass agglomeration, but there were cuttlefish in snorkeling depth, say 3m.  Some smart (but poor sighted) individuals watched for others snorkeling down, and snorkeled down to the same spot in order to see the cuttlefish.  Despite being late May we were in the water for 90 minutes and I saw about 15 cuttlefish.
We packed and drove back to Mambray Creek camping ground and set up camp.  We got a campfire going, and Jon got his stove going and deep fried some spring rolls.  Not exactly traditional campfood, but very popular!  I got the lamb roast and vegies going in the Bedourie oven and an hour or so later we got a rather barbarian (but satisfying – for the meat eaters) main course of roast vegies and lamb.  For a wildlife interlude we were visited by a healthy Huntsman spider.
Sunday morning we were visited by an inquisitive emu, heckled by some kookaburras, gazed upon by some kangaroos then we backtracked north, drove inland then back south to Alligator Gorge.  We hastily did our bookings via the internet on someone's phone then headed off hiking the circuit route.  Another kangaroo, then a long but pleasant walk through the gorge, up the spur then back down, back to the carpark.  Dog's breakfast of leftovers for lunch then packed and headed south back to Bolivar to drop off Paul, then back to Adelaide.  $50 each for fuel, drinking water and camping permits.  Most pleasant.
The team (thanks Jens):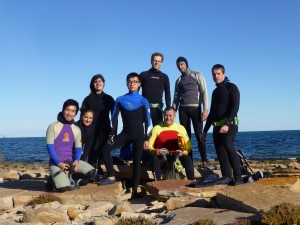 The turnoff: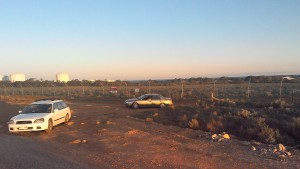 Cuttlefish: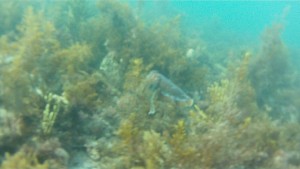 Snorkelers:
The map: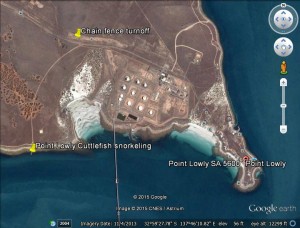 Mambray Creek: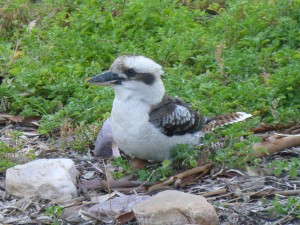 Alligator Gorge: