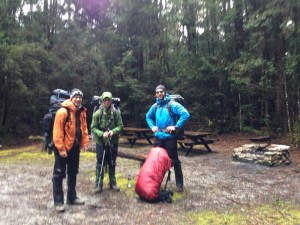 Arland, Jens, Joel and Myles set off to Tasmania to attempt the Western Arthurs Traverse, allegedly Australia's most difficult bushwalk, at the end of September 2015. Here's Joel's trip diary.
Day 1          
Pleasant morning in Hobart – breakfast from Woolies. Looking around outdoor shops for maps (found) and gel metho (could not find). Arland bought some last minute walking poles. Drive to Huon camp ground just over 2.5 hours, occasionally through some of the heaviest rain imaginable. We spent some time getting into rain gear (turned out to be a good idea) and eventually set off at 1.
Start of the walk – found rego station and then ummed and ahed about where the start of the trail was. We eventually decided on a fairly anonymous walk up into the forest and were soon rewarded with a boot cleaning station and warning signs. Perfect! Rewarded with some amazing rain forest and a deceptively easy walk. Out the other side and into increasingly muddier areas, then out into a long plain where we skirted past the red knoll on the left. Eventually – much more mud and denser muddier forest. Boots eventually succumbed to deep mud but gaiters mostly did the trick. Did I mention the mud and also water? Path is basically up a river where we tried to stay on either bank to avoid the deepest puddles. Looking for Junction Creek, I was hopeful that every creek was it, but it took crossing three or four others to find it. The Creek was wide and fast and the book advised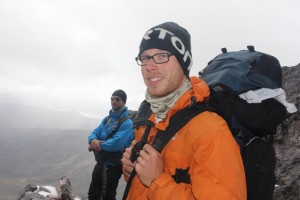 wading, but fortunately there were many fallen branches across it and we were able to skirt across. Myles checked the next morning and the water level had risen so we had made it there just in time. Weather ranged from warm and sunny to rainy and unpleasant. Camp site a couple hundred metres above the creek. We set up, had an early dinner and retired to bed just before sunset and just as Myles' fancy watch and the looming clouds warned of a coming storm.
Dinner: back country freeze dried Thai green chicken curry. Rating A-
Hazards: visibility due to rain and fog on glasses
Day 2
Arland woke with a start at 10:30pm and checked Jens watch and was incredibly surprised. We all felt like we had been sleeping all night already! Had a fairly fitful sleep, waking for each rain storm before finally waking for good at around 5:40. We got up about 6:20 and packed away the tents and had breakfast, though Arland did not seem keen to rise. I had a small but pleasant porridge with milk powder and Myles munched some of his patented meaty biscuit treat. Eventually set off just before 9. Mild drizzle which eventually cleared up.
Headed to the trail, turning right towards Alpha Moraine. Pretty easy walking with mild rain across flat button grass plain and mud with a few old board walks. Found the next camp site and made a false turn into the river before relocating the trail and proceeding up Alpha Moraine. Very steep and heavy going! Walking was up a muddy river. It started hailing on and off but at least the rain cleared up. Considerable vertical ascent and I struggled greatly, flagging well behind the group for most of it. We had a couple of stops (the rest of the group having many more as they kindly waited for me) and after a long slog we rounded the summit of Mount Hesperus, well into the snow line. Very amazing views of the walk we had just done, with the muddy path we'd followed glittering in the sun. Impressive peaks to all sides and huge Lake Pedder on the distance.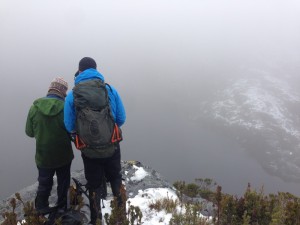 We rounded the summit and were rewarded with gale force winds and snow all around. It was a rather incredible change in the weather given a distance of only about fifty metres! The plain on the ridge was far easier than the muddy slog at first but it was not the end of the ascent by a long shot- I struggled up the steep snowy slope with its howling westerly. A couple more kilometres passed and we saw Lake Fortuna to the right but did not bother making the detour. Visibility was pretty low generally. We lost and found the trail and came to the top of Lake Cygnus, instantly recognisable from the guide book photos. Checked the guide and took some photos, then began the descent (we didn't want to descend if we didn't have to as I did not fancy walking straight back up it). We followed a well constructed path down and then we came to the junction. We hadn't made very good time in the trying conditions and it was around 2, and we figured it was impossible to make the next leg to Mount Oberon. Plus we were getting pretty hungry and wanted to find and stop at the Cygnus camp grounds.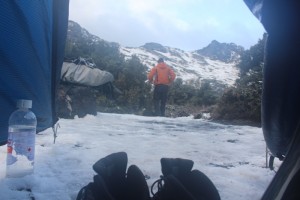 We headed down the track and made another steep descent toward the edge off the lake, and by this time the snow was really coming down heavily and we pitched our tents quickly and ate lunch. Me – a packet of tuna, some mountain bread, mettwurst, and cheese. Jens had brought two one kilogram blocks of cheese and set about munching away on one. I struggled to get the Trangia started to put on some tea, while Arland and Myles fell asleep in their respective tents. Jens had brought a kilogram of milk powder (I was jealous that he was bounding along the trail with such haste and good cheer) so we had white tea, then retired to study the guide book and eat dark chocolate and discuss the merits of lining boots with plastic bags to keep fresh socks dry and feet warm.
Myles' new tent mysteriously collapsed, and then he and Jens set off to take photos and try to get a weather report from higher up the range. Chapman (author of the "South West Tasmania" guide book) and a guy at Mountain Designs had advised that parts of the walk were very treacherous if the weather remained bad and we were a little worried.
I found the outdoor toilet and then Jens and Myles by the lake, and when Arland also found us we tried to get a better vantage point for the sunset (not possible).
Jens adjusted the cigarette lighter to make it easier to start the troublesome Trangia and he ate an Alfredo pasta. We retired to bed at 7:20, with socks on in a desperate attempt to dry them off.
Dinner: Freeze dried classic beef curry. Grade: C
Hazards: wet socks. Westerly winds ( fierce) hail and snow.
Day 3
We all adopted Jens' innovation- water proof boot liners, which were really just plastic bags around our carefully dried socks. After a fairly leisurely start, we batted the fresh snow off our tents and tried to fold frozen gaiters into shape and bade farewell to lovely Lake Cygnus, ascending the steep trail back to the junction. It continued along the contour and eventually up to the top of the ridge, where we could get phone signals and do a quick weather report check and send some messages home. The walking started off relatively easily, with a few slippery descents that I found straightforward, and a couple of annoying steep slippery ascents that I struggled with. We lost the trail and found ourselves by Mount Procyon, which was one of the side trips we hadn't really planned to do. After some serious conferring we continued south east and eventually spotted a lake in the mist, which we decided must be Square lake. A steep descent followed, passing through a densely vegetated river crossing before we headed back up the hill again (boo). Eventually we came to the most precarious of descents – a very steep rocky slope, covered in snow and ice, with occasional showers of ice falling down upon us. It was pretty terrifying, but the occasional trail markers spurred us on. Some wooden board walks followed and we eventually came upon Lake Oberon, our destination for the day. Reasonably easy walking, according to the guide book
The trail brought us to the lake's edge and what appeared to be a muddy camp site, but I checked the guide book, which claimed that there were some wooden platforms. Jens located them in the distance. The light snow of yesterday had given way to an incessant drizzle so we struggled to put up our tents. Fortunately Arland had brought some cord and we were able to tie our tents to various things, which was fortunate because pegs were useless in the platform. The weather had Arland and me wondering what sort of self inflicted injury would be enough to call an emergency helicopter out for.
We cooked dinner (nasi goreng, B-) and hour into our tents for warmth and to dry off. The fourth day from Oberon is billed as the most difficult, with the guide book suggesting a maximum of 7 hours, which our current pace and the weather suggested would take us 9 or 10, for a mere 4.3 km!
Dinner: Freeze dried nasi goreng
Hazards: Falling icicles
Day 4
Miserable weather continued, with Arland feeling cold and wet in his sleeping bag all night and tents getting soggy. Visibility still very limited so we made the decision to try to exit the range and head home via Epsilon Moraine, which Chapman described as difficult and not worth using. We made many false attempts to try to find it, blazing difficult new trails. Eventually we found ourselves at the summit of Mount Procyon and even then couldn't locate the trail despite sliding down and then trudging back up steep snowy gullies. It was just too difficult to navigate with the thick fog and there was no guarantee that the path wouldn't lead to a sheer cliff, which is one of the most striking features of everywhere you look in the western Arthurs. Since we knew where the path was, we turned back toward Lake Cygnus, which was still a tricky slog. The landscape had been transformed since we'd walked the same path two days before – the constant rain had melted most of the snow and left the path looking completely different. We did however know we were on the right track when Arland's missing gaiter was located on the path. Even the tricky icy descent was slightly less formidable from the bottom up and without snow. It was a very long day of walking by the time we descended to the lake, now in a verdant valley. Tents were erected and dinner cooked before we turned in. Jens and I shared a tent to let Arland have some more space with which to recover. It was one of the most uncomfortable nights for everyone! Tents filled with condensation and I woke to find my sleeping bag saturated and icy cold. The only way I could slow my shivering was to lie on my side in order to reduce the surface area touching the wet bag. That was only slightly effective because it made my bruised hip hurt after a few minutes.
Dinner: Spaghetti bolognese, B
Hazards: incessant rain. Zero visibility. The plastic clasp on my rain pants boring a hole into my hip under my pack's harness. The screams of joints hyper extending as I misstepped or didn't let go of a tree trunk fast enough before falling past it. Any weight I reclaimed by eating being more than matched by the tent and my down jacket absorbing water.
Day 5
We didn't do much wake as merely get out of bed at sunrise. We were aiming for the car in one big final push. The weather was even clear with blue skies and not just blue fog. We made for the top of the ridge, stopping for a group photo before walking to the top of Alpha Moraine and beginning the descent. Even though Myles and Jens had very kindly taken my climbing gear and tent I still found the steep rocky and wet descent tough. I made it to the bottom well after the others and we stopped for lunch and to set our sodden possessions out to dry in the sun over dead tree trunks and button grass bushes. With another long push we were at Junction Creek and then into the muddy wallow that is the Port Davey track. I shall be very happy if I never see mud again in my life. I overtook Arland and Jens as they stopped to reapply sunscreen and powered on over the mud and boardwalks to Scott's Peak Dam. I was very excited when I came across the temperate rainforest as this marked the very start of the trail. I knew the boot cleaning station would only be a few hundred meters further. But no , I popped out the other side into more mud and button grass and a couple hours more walking. It turns out that there are actually three sections of rainforest. I found Myles asleep by the second, with his socks drying on a makeshift clothes line strung between camping poles. We waited for the other two to catch up and set off for the end (not realising that there was still more scrub to go). But then there was the boot cleaning station at last! We signed our return in the log book, changed into cleaner clothes, and drove to Hobart for a hot shower and meal and to contemplate our next move.
Dinner: enormous chicken parmi from the place next door to the hostel. A, but could not finish
Hazards: Mud. Steep descents. Increasingly bruised hip caused by pants placement
Day 6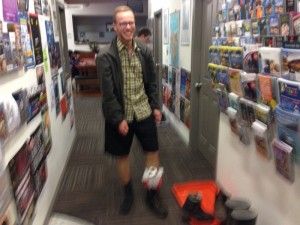 Myles and Jens had pored over the Chapman guide at length and consulted outdoor shop staff and it was eventually decided that we would go on to Mount Anne – a day trip to the summit for the strong, a two day walk for most, or a four night circuit if you didn't mind walking back to the car park along the road. I'd had a reasonable sleep in the hostel as I'd worn ear plugs, but Myles hadn't and had only slept for an hour due to the noise. I wandered over the road and had a large cooked breakfast, and then we went to a laundromat to wash and dry most of our clothes. Sadly we forgot to dry out the tents while there was plenty of sunshine. Arland was still not feeling well so we invited a Canadian backpacker called Kody along and he jumped at the chance to leave Hobart and do some walking despite having a cold, no sleeping mat and only shorts and sneakers.
Mount Anne isn't far from the Western Arthurs so we went back down the familiar roads and eventually pulled into the car park, where we were quite shocked to see five other cars. After some hasty repacking to reduce weight to the essentials we set off over another button grass plain, but that soon gave way to a steep incline and a well maintained trail with loads of large steps and only minor sections of mud. The views over Lake Pedder were great and the weather was perfect.
Our finishing point for the day was the hut 3.5 km up the trail, though we found it to already be partially occupied so Myles and I set up tents (me after I tried to dry mine in the dying afternoon sun and then with a towel). Had a pleasant dinner and watched the sun setting over the lakes and the moon emerging from behind Mount SomethingOrOther (Eliza?). We also chatted to a friendly Tasmanian walker called Marc who was doing the overnight hike to and from the hut as training for an upcoming trip to Frenchman's Cap.
I was a bit alarmed to find that my sleeping bag was a bit wet in places, but hopefully it is not too bad to have to go crawling up to the hut in the middle of the night.
Day 7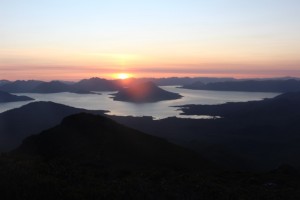 Reasonable sleep, though could have been warmer – I suspect that all of the down has migrated to the underside of my bag. I woke up at about 6 and could see that Myles had not yet stirred so I waited for him to move before getting up. Marc also came over to chat to us as we had breakfast and tea, and kindly lent his inflatable mat to Kody, who had slept on the wooden bench in the hut and didn't have anything at all for his bivvy.
We arranged to meet up with Marc upon our return, and set off up Mount Eliza – a clamber up a steep boulder field. It was fairly slow going for me but not especially difficult. We headed on to Mount Anne, a monster looming in the distance, crossing snowy fields that reminded Kody of British Columbia, and more muddy tracks. I'd been slightly confused about which route we were taking and had thought we were going to Mt. Anne and back down again, so I was a little surprised to hear that we were doing the whole Mt. Anne circuit. Fortunately I hadn't read up on it in the guide book properly so I didn't really know what I was in for.
Mt. Anne is a side trip even on its own circuit, but it seemed a shame not to attempt it. We headed up the very steep snowy incline and eventually came to a rocky cliff face which was pretty precarious as a free climb but not too difficult. I soloed up but a look around the corner revealed that the summit would be impossible without some climbing gear which we didn't have – a long snowy incline clung to the edge of a cliff and sloped alarmingly toward another. The others didn't want to bother so I descended and we slid back down to the trail junction for lunch.
The next part of the circuit was a steep descent through snow, but none of us had brought our gaiters and Kody was even wearing shorts and runners. It wasn't too wet though, at least until I stepped into a concealed stream near Shelf Camp, which was not a very happy moment.
The guide book's topography chart of the circuit does not do the section from Mount Anne to the Judd's Charm camp site justice – it was steep bouldery incline followed by high traverse followed by summit after bouldery summit. We had to lower packs over small cliffs at one point before The Notch, which was followed immediately by another precarious climb. Finally we descended Lightning Ridge (more boulders) and into a cool forest and finally button grass (mud), reaching the Judd's Charm camp site at sunset. It was difficult to find flat and dry ground by the lake so we pitched tents on uneven tufts of grass and had a very well deserved dinner and pot of tea before turning in. Early start for tomorrow as it is still a long walk back to the road, and from there a long walk to the car park!
Day 8
After a night of very broken sleep upon a mattress of very bumpy grass, with me dreaming about a fictional new Costco-like department store opening in the city, we got up after 6 just as rain started sprinkling on the tents and packed up quickly. It's an 8ish km walk to the road without any major hills (we decided not to do the Mount Sarah Jane side trip) so we set off briskly over the grassy plain. There wasn't a lot to report except that it was a terribly long and slow slog for me. The descent from the range was via a steep muddy track over rocks and then into rather dense forest which went on forever, and I fell about an hour behind Myles by the time I eventually caught up to the group at another button grass plain. The button grass plains were somehow muddier than the Port Davey track and I felt for Kody, who was still walking in shorts and sneakers, though he'd abandoned all pretence of keeping his feet dry and was waking directly through all puddles. After hours more of plodding along alone over grass, the muddy track, board walks and a nifty suspension bridge, I spotted Lake Pedder and Scott's Peak Road in the distance and was excited that it would only be another ten minutes to the finish. I was wrong, naturally – it was probably closer to 45 before I came to the walker registration booth and Kody. Jens and Myles had been and gone and were running the additional 8km along the dirt road back to the car, and drove it back to where we were not long after I arrived – they are truly kings amongst men. Again the guide book didn't really go into the scale of the slog.
A stop off at K-Mart in Hobart to buy replacement clothes and we were back at the hostel. I treated myself to a large steak, a beer and a chocolate pudding and was finally content, though my feet are mortally wounded. Marc dropped in to pick up his sleeping mat and stayed for dinner and a good chat about Tassie walks. What a walk it was!
Day 9
A considerably more relaxed day had me first wandering to Salamanca Place to try to find a nice café I'd once been to, but it had apparently become a Vietnamese restaurant or else I'd forgotten where it was located. I had eggs Benedict with extra haloumi and then had a look for the store Matthew Evans had opened (it was still shut). Myles had taken the car to do some more washing as he had been displeased with the result when Jens did it the previous night, but was gone for ages due to a machine mishap. We checked out, farewelled Kody and hit the road, heading to Mount Field National Park and Russell Falls. I had to stop the car for a break after becoming sleepy listening to a long conversation about matrix mathematics but we eventually arrived and checked out the camp ground, which was full of campervans so we decided to go elsewhere for the night. The walk was very pleasant with a well groomed trail and no packs on our backs – we walked for a couple of hours, taking in the three waterfalls and the Tall Trees walk. Even Myles wasn't keen to walk up Mount Eliza again to stay in that hut, so after a brief stop at a picnic area that didn't seem much of a campground we arrived at Edgar Dam and were pleased to see a hut, firewood and lots of grazing marsupials. After putting up tents with difficulty due to the incredibly rocky ground, we got a fire going but soon had to retreat to the hut due to the light rain. I'd picked up some bacon in Maydena so Myles and I shared that, with cheddar and haloumi and peanuts and mountain bread wraps, and then we listened to the reggae radio station from GTA Liberty City and drank many cups of hot tea.
The aftermath
My feet have now fully recovered! South West Tassie presents a formidable challenge but the rewards are intense – amazing views, great friendships, beautiful clean air and water. I would train harder and longer before trying again and most likely go later in the year. Thanks again Arland, Jens, Myles, Kody, Marc and Tassie!