The Committee Manual
An ever-expanding operations guide for Adelaide University Mountain Club committee members
Membership procedures
Add new members who joined via a paper membership book to TrackEasy as soon as possible and subscribe them to the mailing list (via the form at https://aumc.asn.au/announce/) , OR photograph the 'white' membership forms and email them to the Secretary / Members Officer for data entry.
It is important that we add members to the database and mailing list so that they are able to hire gear and receive updates about what the club is doing.
Procedure for sending membership cards out to people who sign up online:
If you with to receive notifications about new members and aren't currently doing so, email the Sports Development Officer at sdo@

null

theblacks.com.au . You will need to have access to the AUMC's site on The Blacks – if you aren't already set up as a club admin, ask for this too.
Whenever someone joins up, fill out a membership card for them using their name, expiry (O'Week current_year+1), and membership number. The membership number needs to be looked on The Blacks web site at http://www.theblacks.com.au/Clubs/ProductHistory.aspx?CID=10&PID=7011 (note that the product ID in this URL changes every year)
Purchase and affix a stamp (currently $1) and post as soon as possible
Invite them to join the mailing list by pasting their email address into the form at https://aumc.asn.au/announce . The majority of people who join the club don't add themselves, so it is a very good idea to do this for them
Take a note of how many membership cards you send, and request reimbursement for stamps.
It is not necessary to also add online members to Track Easy – there is an automatic process that does this for you.
Ordering new membership cards
Previously have been ordered from VistaPrint. The image files are in the AUMC Dropbox (Todo: where exactly?)
Running trips
Posting trip to the web site
If we have run a similar event in the past
In WordPress, Events -> Events
Ensure the filter is set to "All Events" rather than "Future Events"
Use the search box to find the event or look through the list
Move the mouse over the event title to reveal a 'Duplicate' link.
Update the event dates, the booking cut off date, the number of spaces and the description as necessary
If this is a brand new event:
In WordPress, Events -> Add Event

Give it a title

Set start and finish date, and start and finish times (on the right hand side). If this is an 'informational' event rather than an 'actual' event, set the start and finish date to some day in the future and make it an all day event. This will be the last day that the event is shown on the site.

 The event list screen (

www.aumc.asn.au/events/

) will show an excerpt of the description. By default it will take the first 50 words or so and truncate it, but you can control this truncation using a summary paragraph and a 'Read more' tag, which you can insert from the content editor tool bar.

If the event has a location, enter the address and ensure that the map below has located it correctly. Have a look in Events->Locations to see if the location has been used previously, as we may have included additional information on how to get somewhere or photos.

Set one or more event categories – feel free to add a new one if nothing is appropriate. These aren't really used for anything at the moment, but they are displayed on the event page.

If the event is something that requires registration, tick "Enable registration for this event".

 If necessary, set a total number of spaces and a booking cut-off date (usually the day before, or a few hours before for an evening event, or a few weeks before if it's an international trip). You can always increase the number of spaces if you need to.

There's an option for the maximum number of people.. I'm inclined to set it to one to force people to register individually, as this means you'll get everyone's number, AUMC membership status and emergency contact detail and so on, but the form might then need a note to say this.

Choose the booking form. The 'default' one is a registration form with transport and emergency contact questions (make my own way there, I require transport, I can provide n spaces, etc.). You have the option to select one called "Event without transport or emergency contact" – this is mostly useful for things like a committee meeting or perhaps a registration of interest. We can easily create forms for other scenarios – e.g. if you want to ask for experience level, or if they hold a drivers licence, and so on.

Set some attributes:

MeetAt could be something like "Make your own way there, or meet at Cloisters at 6pm", or "Waterfall Gully car park"
Organiser is your name
Cost is the estimated cost of the trip – e.g. "Free" or "$15 (estimated)"

Save Draft if you're still working on it, or if you're happy, click Publish!
To send an email to the membership list follow these instructions:
Instructions for sending emails from Events page
Checking bookings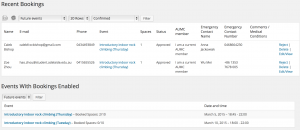 You should get an email every time someone registers. You can see the current 'bookings' through Events -> Bookings, with links to reject (will send them an email), delete, or edit/view their details.
If you get a duplicate booking for someone and spaces are limited, you should delete the duplicate to free up the reserved space.
The system can also send people reminders prior to the event (e.g. the day before). There is not currently any way to have it automatically send you a list of bookings, but you can export them to CSV by clicking the CSV icon: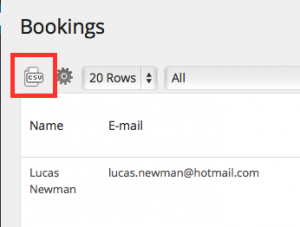 Sending updates
It's good to keep people informed with extra requirements and information as they register or a day or two prior to the event, especially if there is a long lead time. You can either email them manually or use the booking system to set up a trip-specific 'after registration' (To do: explain how)
Sample automatic after registration email for indoor climbing:
Thanks for registering for the climbing night!
If you haven't done an introductory belay course at Vertical Reality before, you will need to ring them today to organise one. We are planning to arrive there in time for the 6pm course. Their phone number is (08) 8266 4090. You should also complete their online waiver form: http://www.verticalrealityclimbing.com/pages/policies-waiver.php
If you need a ride from the university, we are departing from the Cloisters at 5:15pm. Here's some info on where to find the Cloisters: https://aumc.asn.au/locations/university-of-adelaide-cloisters/
If you're not yet a member of the AUMC and would like to join, I'd recommend doing it online today at http://www.theblacks.com.au/Clubs/Join.aspx?CID=10 .
If you are making your own way to the gym, you're welcome to get there whenever you like! The gear box may be locked, so if you don't have your own gear I would suggest signing in and bouldering until we arrive rather than hiring a harness from the gym to save some money.
If you have any questions or can no longer make it, just let me know! If it's at the last minute, my number is xxxx.
See you soon!
It's good to send a final email the day before an event or on the morning of an evening event with some final instructions and a reminder to let you know if they are not coming.
You can send an email from within the booking system, or using your desktop mail program by clicking on the list of recipients: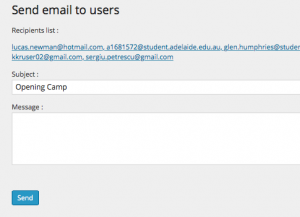 Sample email:
Thanks for registering for the walk tonight! We've a pretty big group, so it should be a lot of fun.
We don't have any car spaces left and a few other people have asked if they can join. If you can no longer come tonight, please let me know as soon as possible so that we can give the space to someone else. If you don't, it will forever be on your conscience that someone had to walk an extra three and a half kilometres from the bus stop! 🙂
Even if you said you would make your own way there, please let me know if you decide not to come: otherwise we will be waiting for you to arrive before starting the walk 🙂
If you have any problems, I'll be checking my email or you can phone or SMS me on nnn. We will aim to actually start walking by 6:30 at the latest, but if you're only a few minutes behind we can wait or leave someone behind to meet you.
If you're not sure where the Cloisters are, you can find a map here: https://aumc.asn.au/locations/university-of-adelaide-cloisters/
Just to re-iterate – bring some water and good walking shoes! A torch isn't necessary, but the path is quite steep on the descent, and depending on when we start and our speed it might be dark by the time we finish. If you're not comfortable walking in the dark, you might want to consider bringing one. They can also be used to signal to helicopters in the case of emergency or if you decide to hire one rather than completing the walk.
Running a trip
As the trip organiser, you are ultimately responsible for the group. Here are some suggestions:
Export the list of bookings and print it out. You should tick names off as people arrive AND as they leave an event – no-one should be left behind!
It can be very difficult to keep track of participants if there are many people registered, some of whom are making their own way there and some of whom are expecting a ride. If anyone has turned up unexpectedly or without registering, write their name down. If someone has not arrived at the agreed location, send them a message or give them a call to find out if they are still coming.
It is common for people to want to leave a trip earlier than others – especially if it's a multi-day event, or a walking trip where some people have lagged behind. Mark them off!
You should either be with the last group to leave, OR delegate the responsibility of marking everyone off to another committee member or a trusted participant. If some people choose to remain behind, talk to them and make it clear that the trip has officially ended, and they are on their own.
Transport is often the limiting factor for trips, especially at the start of the year when everyone is enthusiastic but nobody owns a car.
If you don't have enough car space, you should appeal to the registrants (especially those who have elected to make their own way there) and other committee members for assistance.
It is worth emailing everyone an update a day or two before the trip to remind them that it's happen, and ask them to let you know if they have decided not to come.
You may wish to (perhaps temporarily) close registrations by reducing the number of available spaces to equal the number of booked spaces. You can then edit the trip description to add a note (ideally with a large heading) that the trip is closed for registrants due to the lack of transport, BUT that people who are able to make their own way there or who can provide transport to others may register by emailing you directly. You can then add them to the booking system manually, though you will first have to increase the number of available spaces by the number of people you want to add. Make sure you ask for their phone number, emergency contact details, etc.
To simplify this, we may be able to set up two kinds of tickets in the future – one for people who can drive and one for people who can't.. it will depend a lot on the trip though.
If the trip is truly oversubscribed, we usually work on a first in, first served basis. Feel free to tell the people who registered last that they cannot come, unless they are able to make their own way there by bus or whatever.
If the event has special requirements, make sure people are clear on what they are
If good walking shoes or particular kinds of clothing are required, make this clear in the trip description and in any trip update emails. You reserve the right to tell someone that they should not participate (or can only do so at their own risk) if they have inappropriate footwear.
If a trip requires a certain level of experience or competence, make this clear in the trip description and any communications. You may also want to hold a pre-trip meeting a few days before departing, e.g. to check what they have packed to make sure it is appropriate – sufficient food, suitable footwear and clothing, nothing ridiculous. You reserve the right to decline a registration if you don't feel someone is experienced enough to participate in an advanced trip. Some trips may also benefit from 'screening' that could double as a training exercise, such as a day walk up Mt. Lofty prior to a seven day walk – if someone can't manage the 'screening' event despite what they've said, you reserve the right to not let them come along on the real trip.
You are responsible for risk management
Have a copy of everyone's emergency contact details printed off
Carry a first aid kit
Ensure that you take safety equipment (e.g. climbing helmets) AND make sure that everyone uses them
Let someone else in the committee know when you will be back. Contact them when you return.
Posting trip reports
As soon as you return from a trip, you should post a trip report!
These should be done via Posts -> Add New.
Set a title
Use the 'Read more' function to set an excerpt, as with events
If it's months/years since the trip took place, you can use the "Publish immediately 

Edit

" link to set the date to the date of the event rather than today's date
Set the category to "Trip reports"
Use the Add Media to upload all of your pics. You can drag and drop a stack of pictures in, and then insert them all in one go using the default options
Use Set featured image to pick one photo, which will appear on the summary page
Have a look at some of the existing reports to get an idea of what to look for.
Gear room management
Key
If you don't have your own gear room key, you can borrow one from the Sports office during business hours. Ask for the Mountain Club key #48. If you are on the committee, the staff there will have you on a list. Please return the key as soon as possible in case other people need to borrow it.
Hiring gear out
Receiving gear in
Checking gear
Gear purchase
Gear purchases should be discussed by the committee, either by passing a motion at a meeting or by email. However the gear officer may be given discretion to purchase small amounts of gear when necessary, particularly inexpensive items that require regular replacement such as foam mats.
Collect at least three quotes or prices from web sites. The lifetime for a lot of our gear is 10-20 years so it is not usually advisable to always buy the cheapest possible alternative. We have ongoing relationships with some stores so it's well worth asking for commercial / club discount quotes, and buying 4+ things at the same time if you can.
Scout Outdoor Centre Commercial Services – email or phone Jamie Fry. Our discount is usually better than 20% (especially for multiple purchases)
Climbing Anchors – email Steve Hawkshaw. Our discount is usually better than the standard 12.5% discount
Mountain Designs Rundle St.
We receive a recurrent grant from the Sports Association (currently $2600pa) which can be used for gear purchases. Give the tax invoices for any purchases to the treasurer or secretary (or leave them in the gear room's in tray and email the committee mailing list)
Gear stocktake and maintenance days
Generally done at the start of a the year, or when the gear room gets out of control. It usually takes four people two days on a weekend to complete this task.
Tents and bivvy bags: Check that poles are not broken, all AUMC gear codes match (bag, fly, tent, peg bag, pole bag), sufficient pegs are provided. Check tent and fly for filth and tears. Pack away neatly.
Sleeping bags: Check for rips and stench. Air, wash or sew as necessary. Check that the gear code on the bag matches the stuff sack
Inner sheets: If it's been a few years, you might want to wash them all. Check that the gear code on the bag matches the stuff sack
Rucksacks: Check for damage, dirt and items/rubbish that have been left behind in all pockets
Trangias: Check for damage, dirt, missing parts. Check that gear code on all parts and bags match up.
Foam mats: Discard and replace any that are looking too daggy
Climbing ropes
Climbing hardware
After examining each piece of gear, update its 'last inspected' date in TrackEasy. By looking at the inspection report, this will allow us to see which gear has not been inspected and is thus either checked out or has been lost.
Gear repairs
Who do we send things to? Remote Equipment Repairs, perhaps others..
Bicycle maintenance
Kayak shed
Boat maintenance
Trailer maintenance
Email correspondence
If you receive email at one of the club's email aliases (info@, gear@, canoe@), always reply to all to ensure that other committee members know you have responded.
If you are not the 'primary' responder to one of these aliases and notice that there has been no reply after a day or two, either check with the 'primary' responder to see if they have replied but forgotten to reply all, or reply all yourself.
Committee meetings
General meeting
How often
Format of the meeting
Where to hold them
Who to invite
AGM
When to hold it
Format of the meeting
Electing committee members
The Joy of Quorum
Orientation and new year preparation
Hold a committee meeting at least two weeks before O'Week in order to assign tasks.
Plan some trips and lock in dates so that we have a calendar to give people
Speak to all of our sponsors to remind them who we are and confirm that our discounts still apply
Borrow banner from SOC and Mountain Designs if possible, the week before O'Week
Book O'Week and Clubs in the Hub stand
Set up roster document for stand days
Ask mailing list for volunteers if necessary
Stand setup – props, paper for mailing list, membership books, pens, money tin and float, membership cards.
Exactly what to write on a membership card
Print off a trip calendar (100 copies?)
Gear acquisition
When to replace gear
When to buy new year
What to buy
Where to buy from
How to access the Sports recurring grant and when
How much of the club's money to use