Map Unavailable
Date/Time
Date(s) - Wed 21/11/2018
6:30 am - 6:30 pm
Organiser: Tamara, Jacob
Meet At: Cloisters at uni
Cost: $10

Categories
Hey team, get ready for another awesome outdoor climbing day! We will be running a trip to Waitpinga on the 21st of November. This event is for people who have been outdoor climbing at least once, and are up for an adventure. Waitpinga is about an hour and a half from the city, in a unique stunning location right on the water.
We will meet at the Cloi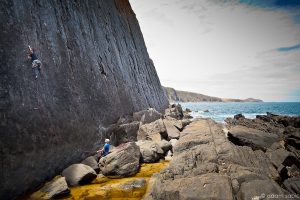 sters at 7am and will go to Waitpinga from there. Bring food for lunch, snacks, sunscreen, a hat and plenty of water. It can get pretty cold and wet by the ocean so be sure to bring a coat/fleece/thermals to keep warm if needed. We'll plan to leave mid/late afternoon depending on conditions so back in Adelaide by dark.
We have ropes and helmets but please indicate if you need a harness and shoes so we can collect before the trip. The trip will cost $10 so please bring cash on the day (petrol/access/club gear).
Access to the crag depends on fire conditions, but if there's low fire danger it would be a 15 minute approach, but if conditions are bad it could be a 2 hour walk/may require 4wd. This trip is also dependent on weather and tide conditions and we will make the call the night before. If we're unable to go to Waitpinga don't stress though, we will head to a local crag (Morialta or Car Crash) instead for a fun day of climbing 🙂
Please be aware, it is possible that we will get to the crag, and then realise that it is too dangerous to climb. We will do everything we can to figure out conditions etc before we leave the city, but mother nature is unpredictable so there may be unforeseen circumstances. If this happens don't worry though we have plenty of other fun things planned as a back up!
The number of spots will be limited by the number of drivers, so if you have a car (especially 4wd) please let us know.
This is such an amazing location with some legendary climbing so don't miss this once in a lifetime (semester?) opportunity.
Any questions or to know if this trip is suitable for you please message Jacob Granley on facebook or email jacobgranley@nullyahoo.com
See you out there!
From Jacob and Tamara 😀
*Note: Please make sure your AUMC membership is up to date before the event and bring your card along. Sign up at The Blacks.
Bookings
Bookings are closed for this event.