Date/Time
Date(s) - Sat 17/03/2018 - Sun 18/03/2018
7:30 am - 4:30 pm
Location
Club Morgan
Organiser: AUMC committee
Meet At: Cloisters
Cost: $80 incl bus

Categories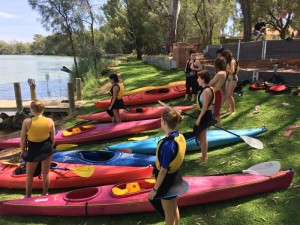 Just joined the AUMC? Want to go camping for the weekend? Interested in learning how to kayak? Ever put up your own tent and cooked dinner on a trangia?
Well, here is your big chance!
We are  organising a weekend camp at the Adelaide University property near Morgan on the Murray river 17-18 March 2018. Put it in your calendar now. Places are limited to 30 members max, so get in fast.
You can book a seat on the bus and borrow camping gear from the club incl tents, sleeping bags, trangia sets, mats, rucksacks etc. Low cost, just pay for the bus and your food. There will be the opportunity to learn how to kayak and you will meet other like minded people interested in outdoor activities.
More info :
Cost will be $80 per person for club members. This includes full catering (lunch Sat, dinner Sat, breakfast and lunch Sunday); transport by minibus or private car both ways, camp fees and camping equipment, use of kayaks and safety gear and training to 'basic skills' level. This allows you to go on longer trips and use the club kayaks. There will also be a chance to socialise, go for a walk, vote (if you need to), swim, and generally chill for the weekend.
The Waterski Club has also offered their boat for skiing (as long as it gets fixed in time) – cost approx $20 for 15 min. Bonus!
Please pay the fees  here: https://www.theblacks.com.au/Clubs/Mountain using 4 x $20 AUMC trip deposit.
Transport is 'first in, best dressed' ie the first 12 people to fully pay will get a seat on the bus, which leaves from behind the Cloisters at 8.00 am sharp on Sat morning. Others will get transport by  car. The event closes tomorrow and the bus has been booked, so transport arrangements will be confirmed by the organiser by email after that.
Camping will be on the lawn. 16 beds are available in the clubhouse as well. If you need camping gear, please contact the gear officer on gear@nullaumc.asn.au to arrange pickup. Sleeping bags and inner sheets, sleeping mats, tents (share) and ruscksacks are available. Experienced club members will be available to help with putting up and taking down tents.
Please notify any dietary requirements to info@nullaumc.asn.au .
Kit list:
Land based clothes including a jumper, jacket or fleece – can be cold at night
Water clothes: long sleeved shirt or rashie, shorts or leggings, bathers, water shoes or old sandshoes, hat, sunglasses if desired. Note: This is for kayak training. Thongs, crocs, strappy tops or just bathers are NOT suitable for this activity, and you may not be able to participate without suitable clothing. Lifejackets will be worn.
Water bottle, sunscreen, towel, toiletries, hat, phone or camera.
The club will subsidise camp fees for committee members and organisers, but please register for the event so we can plan for catering. All drivers willing to take passengets will be discounted $40 to be reimbursed for petrol and bus hire. Please email info@nullaumc.asn.au if you can transport yourself and others
Bookings
Bookings are closed for this event.