Date/Time
Date(s) - Sat 03/03/2018
9:00 am - 2:00 pm
Location
AUMC Kayak shed
Organiser: Jane Boroky
Meet At: West Beach Kayak Shed
Cost: Free

Categories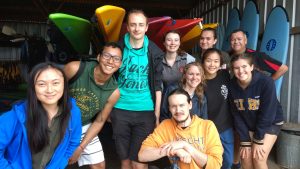 Hey new and old AUMC members, 

Come along to the kayak shed maintenance day this Saturday 3 March from 9.30am-2.30pm and get our boats ready for O-camp! You do not have to be an expert or a committee member – everyone is welcome and  there are plenty of easy jobs. If you want to take part in any water activities or lead trips you will need to know about our equipment anyway so this is a good opportunity.
Some jobs to do: Inspect kayaks and surfboards, check wetsuits, count paddles and spray decks, do some repairs, label boats and gear with our logo, resilicone some cockpit coamings and bulkheads and then there is the trailer . . .
There will be free beer (our prize from O-week) plus non alcoholic drinks and lunch included for those that help out. 😀 Please register so we can organise catering. You can email the organiser if you have any questions.
There is a bus from the city to the Boat shed – just follow these instructions:  eg. Bus J3 leaves stop T1 on Grenfell St south side at 8.24am, arriving stop 112B Burbridge R south side at 8.57am, then just walk through to the boatsheds. Someone will probably be able to give you a lift home.
Cheers,
Jane
Bookings
Bookings are closed for this event.