Date/Time
Date(s) - Fri 27/03/2015 - Sun 29/03/2015
5:00 pm
Location
Club Morgan
Organiser: Jonathan Gobin
Meet At: Make your own way there OR meet at Adelaide Uni Cloisters at 17:30 for transport
Cost: $40 (estimated)

Categories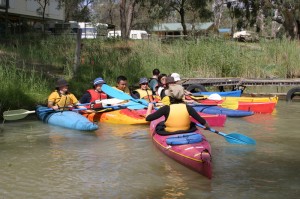 Opening Camp is the first major event in the AUMC calendar and is a non-stop weekend of camping, swimming, kayaking, eating and (of course!) socialising. This year's Opening Camp will be held at Morgan on a beautiful stretch of the Murray River 180 KM from Adelaide. This camp is perfect for beginners with no prior kayaking (or even camping) experience. AUMC Committee members will be running demonstrations on basic kayak skills which are usually a prerequisite for bigger kayak trips. We may also hold a quiz! So come along and enjoy!
WE WILL NEED HELP WITH TRANSPORT. Please note when registering if you can bring a car and indicate how many people you can carry. Drivers will be reimbursed all petrol costs by those travelling in their car (estimated cost $10-20). The site rental will be about $20 per person, depending on the number of people who come.
We'll be staying at the Waterskiing club's house which has 17 beds but there is also the option to sleep in a tent if you prefer.
The club has a limited number of tents and sleeping bags. If you require these, please let the organiser know by email when you register to find out if one can be reserved. You will need to bring your own food for the whole weekend (a normal household stove and the club's camping stoves will be available). There's a limited amount of fridge space available. Bring clothes for swimming and kayaking in – boat shoes or old sneakers that you can get wet (not crocs, thongs or sandals), a longsleeved synthetic shirt or rashie, shorts, water bottle, sunglasses, hat, sunscreen and mosquito repellant.
If transport spaces are limited, preference will be given to those who register earliest. This means that if you register and then decide not to come, PLEASE let us know as soon as possible so that someone else can take your place. There's also the option to catch a bus to a nearby town & organise a ride from there.
Hope to see you there!
Bookings
Bookings are closed for this event.